Sample Itinerary
When in the Whitsundays, we live and play amongst the beautiful lands and seas traditionally owned and inhabited by the Gia, Giru and Ngaro People. We acknowledge the traditional owners of this beautiful Country and pay respects to elders past, present and emerging.
Whitsunday Getaway offers 2 and 3night tours, the 2 night tour departs at 3:00 pm every Monday, Wednesday from the Coral Sea Marina in Airlie Beach, and returns between 12:30 pm and 1:00 pm every Wednesday, Friday.
The 3-night tour departs on Fridays at 3PM returning on Mondays between 12:30PM and 1PM.
Day 1
Arrive at the marina at 2:30 pm to begin your Whitsunday Getaway experience. Your skipper and hostess will be waiting to greet you and welcome you aboard your floating home for the next few days. After a quick vessel safety briefing, we begin sailing effortlessly, passing through surreal island scenery. There is endless beauty to behold while underway and plenty to learn from your knowledgeable crew while you search for the perfect protected bay to drop anchor for the night. Guests are welcomed and encouraged to try their hand at sailing, and whether you are a beginner or a seasoned sailor, our experienced crew are always happy to share their love of sailing and the sea with others. You may also opt to relax with a refreshing drink instead, lapping up the luxury of the boat while the crew take over. Choose to do as little or as much as you like on this voyage, the world is your oyster!

As you enjoy pre-dinner drinks and getting to know your fellow travellers, your hostess will be preparing your first gourmet meal. After dinner, continue relaxing with the company of your new friends, taking in the tranquility surrounding you. When you're feeling drowsy, take a last glance across the shimmering waters and turn in for the night in your comfy cabin, where you'll be rocked to sleep by the gentle ocean swell.

Day 2
Don't sleep in - there's too much to do! The crew are up early to make you a 'cuppa' and prepare your fabulous continental breakfast. After a pleasant and invigorating sail, it's time to visit the euphoric Whitehaven Beach, with its remarkably pure silica sand. Experience first hand why this beach is often rated the most beautiful in the world! After enjoying a few hours on the beach, your hostess will take you on an informative guided bush walk up to the picture-perfect postcard that is Hill Inlet lookout. This view is not to be missed as it is a once in a lifetime opportunity to view the stunning and intriguing swirling sands that make Whitehaven's Hill Inlet world-famous!

After a superb buffet lunch back onboard Getaway, we make our way up to the northern Whitsunday Islands to snorkel a vibrant underwater world filled with colour, life and beauty. When the evening sets in, so do the sails as we make our way to another spectacular anchorage to spend the night, reflecting on the day's excursion.

Day 3
Indulge in your final breakfast onboard Getaway and seize the opportunity for one last snorkel, or try your hand at stand-up paddleboarding. As we sail back towards Airlie Beach, soak up the raw beauty of our alluring island archipelago while relaxing on the spacious deck and forward outdoor lounge.

Upon returning to the mainland, we guarantee you will remember this once in a lifetime trip with a smile and fond memories of your adventures with us in the Whitsunday Islands. There we will say farewell, wishing you all the best in your future travels, knowing you'll treasure the wealth of memories made in the Whitsundays for decades to come!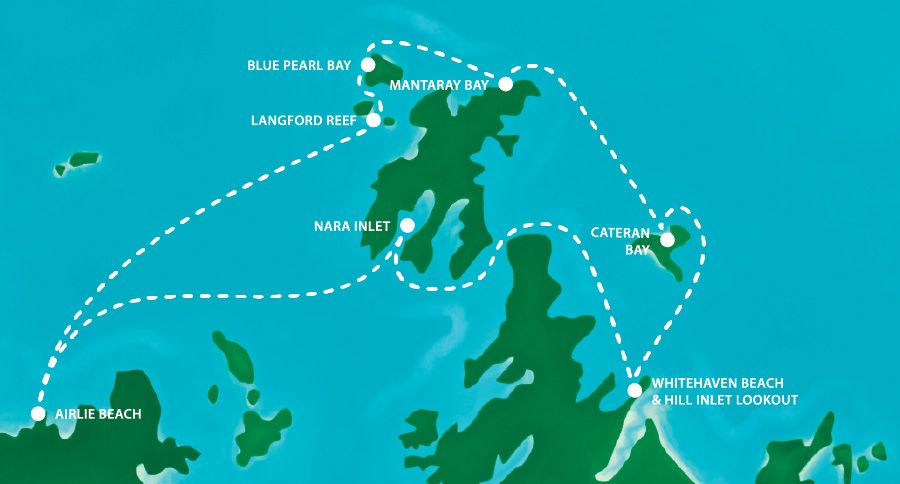 *Please note, this itinerary is a sample only and is subject to changes with no given notice.