Whitsunday Getaways is an Eco Certified product, operating with minimal impact on the environment whilst providing opportunities to learn about the environment. We are committed to achieving best practice, using resources wisely, contributing to conserving the environment and helping local communities.
What is eco tourism?
Eco tourism encompasses nature-based experiences that increase visitor appreciation and understanding of natural and cultural values. These are experiences that are managed to ensure they are ecologically, economically and socially sustainable, contributing to the wellbeing of the natural areas and local communities where they operate.

Read more about eco tourism and the available certifications here.


Our sustainability statement
Here at Whitsunday Getaway, we realise that the natural beauty of the Whitsundays and Great Barrier Reef is under threat due to climate change and rapidly warming waters. The islands, reefs and waters that we have grown up amongst and cherish are in imminent danger, and we put it at the forefront of our agenda to do our part in offsetting issues such as coral bleaching and decreasing biodiversity. As locals, we want to see this incredible corner of the world thrive and flourish, and one of the most important steps in doing so is to raise awareness and teach visitors about the wonders of our backyard. By upholding sustainable, mindful, conservation and eco-friendly practices, we aim to educate visitors about the beauty, threats and possibilities for the Great Barrier Reef. We hope to teach, inspire and preserve the Whitsundays' vast ecosystems for all future generations to cherish and enjoy.

Whitsunday Getaway's eco contributions
We endeavour to be educational as we run small groups tour (under 8 pax) to give a personalised and informative experience
We minimise the negative impacts on the natural and socio-cultural environment
Whitsunday Getaways is a local business and supports the community by employing locals, using local services and shopping locally
We increase awareness towards the conservation of natural and cultural assets, both among locals and tourists
We minimise waste, recycle and use recycled materials where possible
We measure and track our emissions footprint annually using the GBRMPA emissions calculator

What you can do to help
Reduce your carbon footprint and walk when possible
Do not litter. If you come across rubbish, please take it with you to dispose of accordingly
Minimise the use of non-reusable waste. Purchase reusable bags, coffee cups, straws, containers etc
Be conscious of your environment; walk on designated walking tracks, don't disturb wildlife, or touch corals and marine life (the human touch destroys their
protective coating and can lead to death)
Use energy responsibility and consider solar power
Be mindful and minimise water usage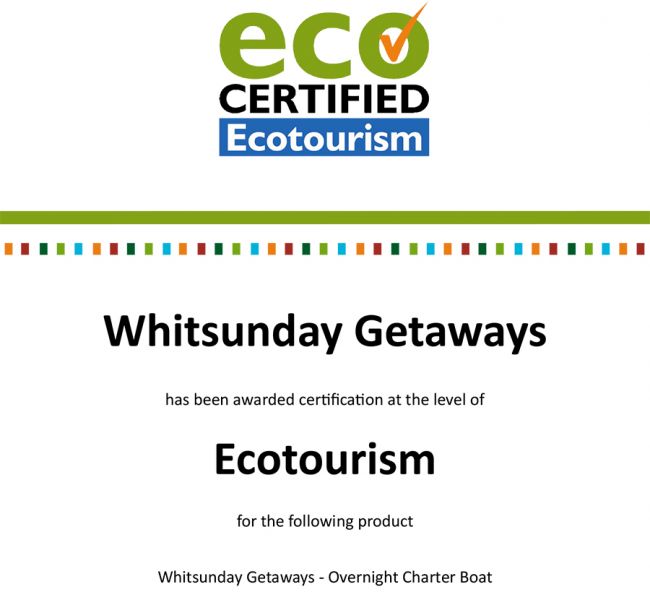 We would like to acknowledge the traditional landowners and recognise that First Nation's sovereignty has never been ceded. By visiting the Whitsundays, you are staying on land traditionally owned and inhabited by the Gia, Giru and Ngaro People. We feel very privileged to be able to live and share this very special piece of paradise with our guests from near and far.